Wild West Wellness isn't just any other cannabis shop—we're here to educate you and help you discover essential information about the world of cannabis and nicotine! Check out what our experts have got to say in these top-notch blogs.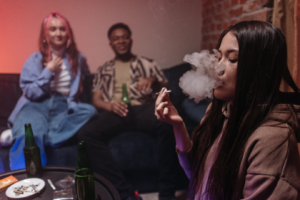 Cannabis
While smoking weed with your partner can be hilarious, stimulating, and extremely relaxing, it's recommended not to overdo it, as it can damage relationships and
Read More »
At Wild West Wellness, we aim to provide our customers with a clean and professional environment. We make sure to maintain affordable prices for our premium cannabis and nicotine products and accessories without sacrificing any of the quality.
We put our time and efforts into more than just our products—from the atmosphere to the look of our shops, we aim to provide you with a high-end experience.
Don't like the product that you picked? Return it and choose something different! Your satisfaction is our number one priority.
Got any questions? Contact us!